£188k Noble's Park swimming pool opens in Douglas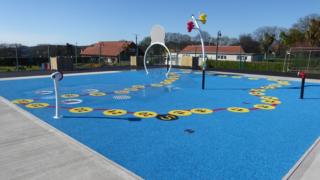 The first part of a £383,000 investment in Noble's Park has been officially opened in Douglas - adding a swimming pool the site.
The new £188,000 pool, known as the Splash Zone, was officially opened by Mayor of Douglas Debbie Pitts.
A council spokesman said it was a "fabulous new facility" which was ready in time for the bank holiday weekend.
The next phase will see work begin on a concrete skate park, which the council said would be the "best on the island."
Head of parks David Hewes said it would replace the existing set of dilapidated ramps at Noble's Park with a modern concrete bowl system.