Isle of Man government buys Douglas Promenade horse stables for £600,000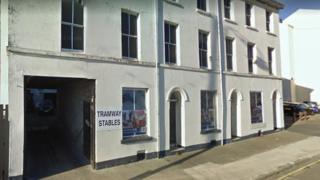 The horse tram stables on Douglas Promenade have been sold by the council to the Manx government for £600,000.
The facility, home to more than 20 horses used to pull trams along the promenade, has been in use since 1877.
The Department of Infrastructure took over the operation of the Douglas Bay Horse Tramway from Douglas Borough Council in April 2016.
The government said the recent purchase is part of plans to "retain the island's heritage infrastructure".
Earlier this year the government said the "in need of repair" stables would be relocated to the Summerland site, further along the promenade.
But a spokesman said buying and revamping the current building would be more "cost effective".
It will also leave the Summerland site free for private development.
The former tourist attraction has been vacant since a leisure centre there was demolished in 2005.
It was the second leisure centre to be built on the site after fire swept through the original building on 2 August 1973 - killing 50 people.
Infrastructure Minister Ray Harmer said the area has attracted "a number of potential bids" from private investors.
Earlier this month the government also announced plans to spend £1.5m to demolish and rebuild the Isle of Man horse tram depot.
A spokesman said: "This is an exciting time for the horse trams, and the wider heritage transport network more generally, with commitments being made to ensure they continue to attract tourists for many years to come."