Isle of Man lifeboat crew rescues eight people within 24 hours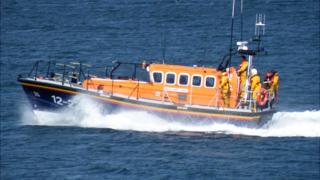 Eight people were rescued by the same lifeboat crew in two separate incidents at sea over the weekend.
Peel RNLI volunteers first helped a family of five to safety after their private boat ran out of fuel four miles (6.4 km) west of the town at 21:40 BST on Saturday.
The group had been returning from a day trip to Northern Ireland.
The crew also rescued three sailors who became stranded after their vessel's engine failed at 17:55 BST on Sunday.
They were towed to safety after becoming stricken one mile (1.6 km) west of Knocksherry.
Coxswain Frankie Horne said: "As we approach the summer season we would like to remind everyone to respect the water and be mindful of the importance of preparing fully and checking that all equipment is in working order before taking to sea."