Castle Mona hotel: Historic Isle of Man hotel sale falls through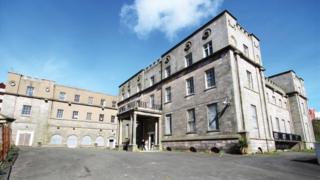 The planned seven-figure sale of a hotel in Douglas has fallen through, according to its owners.
Sefton Group Plc said Castle Mona Hotel will be put back on the market after would-be buyers "failed to complete" despite "several deadline extensions".
The 98-bedroom hotel, which has its own ballroom, was built on Douglas promenade in 1801 but closed in 2006 and has since fallen into disrepair.
A Sefton Group spokesman said it will be auctioned once again on 14 May.
He added: "For a number of months we have been working closely with a prospective buyer but unfortunately, despite several deadline extensions, they have failed to complete the purchase.
"Consequently, the board of Sefton Group has concluded that placing the property in auction is the best way to progress a sale and secure the long-term future of the building."
The Castle Mona Hotel was built as a home for the fourth Duke of Athol, who was a governor of the island, before being converted into a hotel in 1835 after his death.