Film released to address Isle of Man tourism decline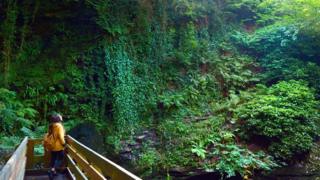 A three-year campaign to attract more tourists to the Isle of Man has been launched after official figures showed a 9% decrease in visitor numbers.
It comes after the annual Isle of Man Passenger Survey showed a 25,000 fall in visitor numbers, from 292,328 in 2016 to 266,850 last year.
At the heart of the campaign is a 90-second film, which Tourism said will cost £50K to produce and promote.
The Extraordinary Story will be shared on social media to showcase the island.
Earlier this month, Manx tourism was accused of lacking "drive and determination" by MHK Chris Robertshaw who claimed the decline in tourism was due to absence of "any ambition to succeed".
The department said while competition for visitor numbers "is greater than ever", the Isle of Man needs "to continue to work hard to realise its full potential".
Other developments that the government hopes will help boost tourism include building a deep-water berth for visiting cruise liners, various hotel developments and the regeneration of Douglas Promenade.