Isle of Man parliament backs £3.6m revamp of Douglas school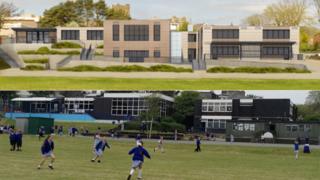 A £3.6m project to extend and refurbish an "aging" Isle of Man school has been approved by the Manx parliament.
The money will be used to build five new classrooms and extend the main hall at St Mary's Roman Catholic Primary School on Somerset Road in Douglas.
The plans, which received planning permission last year, would also improve disabled access, the island's education department said.
Tynwald unanimously agreed to fund the scheme on Tuesday.
Minister Graham Cregeen described the plans as "a major investment" which would replace "inadequate" facilities dating back to the 1960s.
He said: "It is an ageing building with access issues for disabled people. It has an ageing mobile classroom, one of which doesn't even have a toilet so children have to go back to the main building.
"This major investment will make sure students have a modern teaching environment to go to."
Mr Cregeen said the plans would also feature a new roof covering, disabled toilets and new windows.
It is hoped the work will begin this month and be completed by August 2019.