Highland cattle brought in to help grasshoppers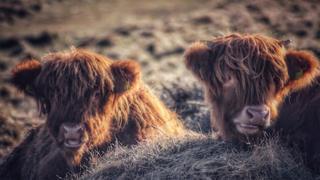 A small herd of Highland cattle has been brought to the Isle of Man to help save a rare species of grasshopper.
The Scottish breed has been introduced to the Langness Peninsula - the only place in Britain where the lesser mottled grasshopper can be found.
The Manx Environment Department said the "hardy and unfussy" cattle will keep down the vegetation, helping to "extend the grasshopper's habitat".
The move will also benefit other wildlife, a spokesman added.
Biodiversity officer Sophie Costain said: "Highland cattle need little in the form of additional shelter or food.
"They should adapt well to the exposed nature of Langness and their sure footedness will enable them to easily traverse the steep sided gullies."
The Manx Wildlife Trust said the lesser mottled grasshopper, or Stenobothrus stigmaticus, "holds the title of being the British Isles' smallest and rarest grasshopper".
In 2001 the Langness Peninsula was listed as an Area of Special Scientific Interest (ASSI) because of its importance for fauna, geology and landscape.
Environment Minister Geoffrey Boot said: "The Isle of Man is home to rich and varied flora and fauna, some of which is rare and found in unique habitats.
"The presence of this species of grasshopper is yet another example of why the island has been designated a world biosphere region by UNESCO."
Until recently Langness was grazed by sheep but this stopped after "several dog attacks" in the area, said the Manx government.
A spokesman added: "Where grazing has been removed, areas of lesser mottled grasshopper habitat have become restricted to small isolated patches."
The government said the area is still open to the public but "walkers should be mindful of the cattle" and "all dogs should be kept on a lead".