E-cigarette trial makes Isle of Man jail 'calmer and safer'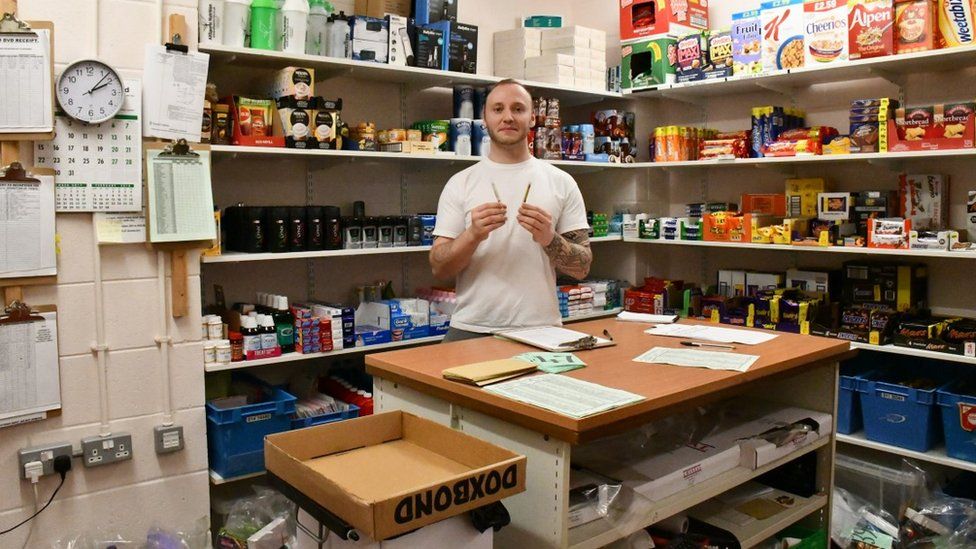 Allowing inmates to smoke e-cigarettes has made an Isle of Man jail "calmer and safer", a report has found.
The six-month pilot was introduced after a 2008 ban on tobacco led to inmates smoking "illicit materials" like nicotine patches and tea bags.
Introducing e-cigarettes as an alternative has seen "significant" improvements in behaviour and more prisoners seeking help to quit smoking.
Prison governor Bob McColm said the pilot has been a "major success story".
The medium security jail in Jurby was the first in Europe to introduce a ban on smoke cigarettes in March 2008.
However Mr McColm said the ban presented the prison with "significant challenges" with the discipline of those "determined to continue smoking".
'Tea bags and banana skins'
He said prisoners devised new ways to smoke and light illicit materials such as tea bags and banana skins.
Under the new scheme, inmates are allowed to purchase a weekly supply of e-cigarettes with vaping permitted in cells or outside spaces.
Since the trial began, the prison has seen a 58% reduction in behaviour warnings and a 25% increase in those looking to give up smoking for good.
The interim assessment also found a 50% reduction in power outages in the jail.
Before the scheme, more than 800 power cuts had been caused by inmates trying to light homemade cigarettes using kettles and plug sockets.
The Manx government said replacing nicotine replacement patches with e-cigarettes would also save £8,500 a year.
Chairman of the Independent Monitoring Board, Bob Ringham praised the prison's "improved atmosphere" and said to stop vaping in the jail would be a "retrograde step".
One prisoner called Dave, said: "I'm 29 now and I've been smoking since I was 13. It's a good environment to quit smoking, especially now that e-cigarettes have come in."
In England and Wales individual prisons decide their own smoking policy.
The Scottish government has announced that all its prisons will be smoke-free by the end of this year.
42% drop in offender adjudication
58% drop in behaviour warnings
50% fall in cell power outages down
25% newly received offenders asked for help stopping for good
Annual saving of £8,500 on nicotine replacement therapy
Related Internet Links
The BBC is not responsible for the content of external sites.