Commonwealth Games 2018: Joe Reid 'proud' to gain Gold Coast place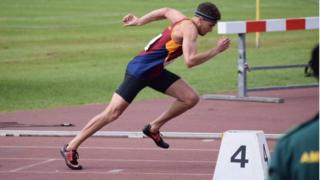 Athlete Joe Reid has been called into the Isle of Man team for the 2018 Commonwealth Games to be held in Gold Coast, Australia, in April.
The Isle of Man Commonwealth Games Association announced on Friday that it had been awarded an additional space in addition to the 32-strong team.
An IoMCGA spokesman said the place was granted after other countries failed to take up their full quota of athletes.
Reid, who will race in the men's 800m, said he was "extremely proud."
'Biggest stage possible'
IoMCGA President Basil Bielich said: "We originally applied for additional spaces in September and we're thrilled to be able to add Joe to the team.
"He was one of the unlucky athletes who met the qualifying criteria but missed on initial selection for the team."
Chef de Mission Leonie Cooil said Reid, who agonisingly missed out on initial selection, will "undoubtedly strengthen our team."
The 33-strong Isle of Man team will travel to Australia on 19 March.
Reid, who will be competing at his first Games, said: "I'm extremely proud to be given the chance to represent the island on the biggest stage possible and can now finally begin to look forward to going head to head with some of the greatest athletes in the world."
The Commonwealth Games is the highest level at which a Manx sportsman or woman can represent the island.
Manx team
Athletics: Joe Harris (javelin), Joe Reid (800m), Erika Kelly (20km walk).
Badminton: Kim Clague, Ben Li, Jessica Li, Cristen Marritt.
Cycling (track): Matthew Bostock, Matthew Draper.
Cycling (road): Sam Brand, Mark Cavendish, Anna Christian, Nathan Draper, Lizzie Holden, Jake Kelly, Leon Mazzone, Tom Mazzone.
Cycling (mountain biking): Nick Corlett.
Gymnastics (artistic): Nicole Burns.
Lawn Bowls: Clive McGreal, Mark McGreal.
Shooting: Rachel Glover, Jake Keeling, Gemma Kermode, Tim Kneale, Neil Parsons, David Walton.
Swimming: Charlotte Atkinson, Stephanie Brew, Guy Davies, Laura Kinley, Niamh Robinson.
Triathlon: Jenny Newbery.