Scrapping of Isle of Man scallop catch rule 'a relief'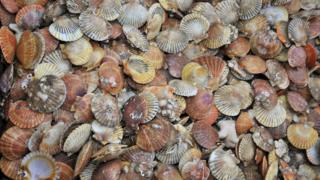 The Manx government has scrapped a new rule covering scallop fishing less than two weeks after it was introduced.
Boats had been ordered to report all king scallop catches from Manx waters to an Isle of Man port.
After protests from the Scottish government, the Manx government said the rule would be lifted on Monday, but misreporting catches could lead to licences being suspended.
Scottish Fisheries Secretary Fergus Ewing said the decision was "a relief".
The measure was introduced following concerns about the accuracy of catch reports, and was also aimed at preserving declining stocks.
Cheating 'not tolerated'
Eighty-nine vessels are registered to fish for king scallops in Manx waters and the Isle of Man government said the industry is worth £12m to its economy each year.
Dumfries and Galloway Council had claimed vessels reporting daily to ports would "cost a lot in fuel, compromise the freshness of the catch" and put about 300 jobs at risk.
Scotland's First Minister Nicola Sturgeon held talks with Manx authorities last week amid mounting concerns from Scottish fishermen.
Manx Environment Minister Geoffrey Boot said after the rule is lifted, cheating over catch size would "not be tolerated" and could see fishermen "lose access to Manx waters".
Scottish Fisheries Secretary Fergus Ewing welcomed the new arrangements and said the decision will help protect the country's £3m scallop industry.
He said the decision was "a relief to many of our coastal communities, who were detrimentally affected by the changes".