World War One: Internment centre 'will unlock' family tales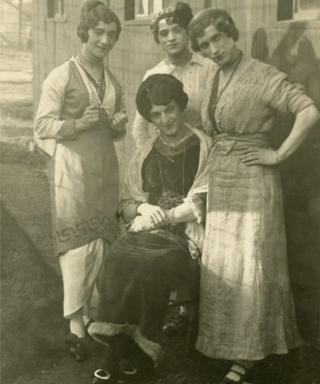 A new visitor centre at a huge World War One internment camp will "unlock a hotbed of stories", said a charity.
Knockaloe Camp in Patrick, Isle of Man housed 23,000 prisoners-of-war and 3,000 guards between 1914 and 1919.
For the first time a centre will be established on-site to tell the stories of those who lived and work there.
It has been funded by a community charity called Knockaloe.im, which aims to help relatives find out more about the place their descendants were held.
Director Alison Jones said: "Families from all over the world have sent us information which we are collating into an archive - it's unlocking a hotbed of human stories".
In August 1914 the British Government passed the Aliens Restrictions Act which meant anyone believed to be a threat to national security was interned at various camps in the British Isles, some of which were on the Isle of Man.
The Knockaloe camp consisted of a series of huts surrounded by miles of barbed wire.
The "enemy aliens" were given more freedom than prisoners of war, and spent their time very productively, said Ms Jones.
"It was a confined space and so the men had to keep busy - they took had concerts, football matches, gymnastics, bone carving, carpentry, farming and cooking - they were very proactive".
"The dynamic at Knockaloe was unique, you had wealthy men living alongside those from poor backgrounds," she said.
"Some had family fighting for Germany and some for Britain - you can only imagine the dinner-time conversations."
The Knockaloe visitor centre is scheduled to open in November 2019, 100 years after the last internees left the camp.