Colby farmhouse owner 'sad and shocked' by fire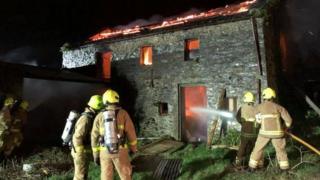 A farmhouse owner has been left "sad and shocked" by a fire that ripped through her property causing "extensive damage."
Firefighters from Port Erin and Castletown were called to the blaze in Colby at 19:00 BST on Thursday.
The Manx Fire Service said no people or animals were injured in the fire.
Owner Sally Cooil said police were aware of several past break-ins at the uninhabited property and were investigating the cause of the blaze.
PC Gemma Berry said it was started in the barn, which lies alongside the farmhouse near Ballacriy Park, adding that police want to speak to anyone who may have seen people in or around the buildings on Thursday evening.
A fire service spokesman said the blaze had "fully developed on arrival" and required the use of an aerial appliance to bring it under control, as part of the building had collapsed internally.