Myanmar: Manx government make donation to Rohingya appeal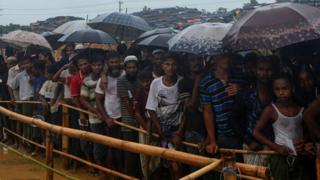 The Isle of Man government has donated £100,000 to help hundreds of thousands of people fleeing violence in Myanmar.
More than 500,000 Rohingya Muslims have left the country, formerly known as Burma, with many now staying in makeshift camps in Bangladesh.
Bangladesh had been "overwhelmed" and there was a risk of "disease, flooding, conflict and violence", a Manx government spokesman said.
He said the money would provide water, food, shelter and medical help.
The donation has been made to the UK's Disasters Emergency Committee appeal, which represents 13 charities working in the region.