Isle of Man's first full-time appeal judge sworn in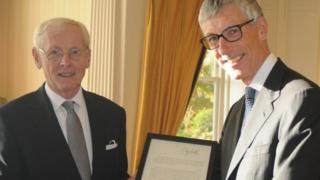 The Isle of Man's first full-time Judge of Appeal has been sworn at a ceremony at Government House.
Jeremy Storey QC has taken on the role until 2022, succeeding Geoffrey Tattersall QC, who held the position on a part-time basis for 20 years.
A review of the island's appeals system recently determined it should become full-time.
During his swearing-in, Mr Storey said it was an "honour and privilege" to be take up the position.
He added that the island's legal system was in "pretty good shape", largely due to its "well-resourced and respected legal profession" and "existing, manifestly independent full-time judiciary".
The government said the role of Judge of Appeal would now have additional responsibilities, including "actively promoting and enhancing confidence in the Isle of Man and its judiciary, both locally and internationally".
Mr Storey has been an acting Deemster since 1999.