Glen Truan holiday park plan 'not housing estate'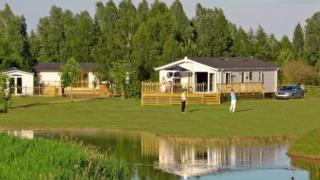 A multimillion-pound holiday park near a nature reserve will not cause problems for wildlife or become a housing estate, the developer has said.
The proposal includes 55 lodges on Glen Truan golf course near Ayres nature reserve in Bride on the Isle of Man.
Developer John Morphet said it was "nonsense" lodges would become houses and gave reassurances about wildlife.
Campaigners said the plan was a "totally inappropriate development in a totally inappropriate location."
Mr Morphet, a Kirk Michael-based entrepreneur, said the 175 acre site will not cause a problem to "locals, wildlife or anything else".
Some locals have concerns the lodges could turn in a residential development at Ayres, which is a Special Site of Scientific Interest (SSSI).
"They've been called houses, they've been called caravans but they're not, they're lodges.
"I've been developing lodge businesses for 30 years and any concerns it will turn into a housing estate are nonsense," Mr Morphet said.
Campaigners claim the development could "desecrate one of the most beautiful and unspoilt landscapes" on the island.
Previously a spokesman for the Saves the Ayres campaign said the area was "protected in Manx law as an area of high landscape and coastal value and significance".
"It is a totally inappropriate development in a totally inappropriate location," he said.
Mr Morphet, who leads the Pure Leisure Group (PLG) which has submitted the planning application, said it will create up to 15 jobs and boost tourism.
"With Brexit, the price of the pound to the dollar and the latest demise of another airline flying aboard I think it is the right time to start a development in the Isle of Man."
Subject to planning permission an agreement has been reached to buy and develop the first phase including 55 lodges, a restaurant and a bar.
A second phase could see a swimming pool and spa built.
Any objections or comments about the development must be lodged before Friday's deadline.