Mr Men author creates three-legged 'Mr Isle of Man'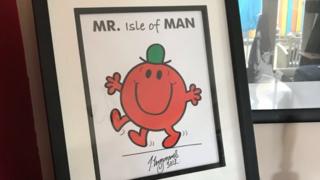 A new three-legged Mr. Men character has been created for the Isle of Man by the son of the late children's author.
Illustrator Adam Hargreaves drew "Mr. Isle of Man", complete with three legs and beaming smile, for the island's annual Manx Litfest.
Adam, who inspired his father Roger to create the series at the age of six by asking what "a tickle" looks like, said it was a "one-off piece of fun."
A Manx Litfest spokesman said it provided a "huge boost" for the event.
"My sister's friend knows the organiser of this event and asked for a drawing for their auction and a Mr. Man seemed appropriate," said Adam.
'Lovely gesture'
"He'll not be appearing in any future television cartoons... so he will be wholly unique."
The character has three legs like the triskelion, which appears on the Manx flag and in the Isle of Man's coat of arms.
Organiser John Quirk said it will be auctioned to raise money for a local family library.
He said: "It was a lovely gesture and we're bowled over at how brilliant it is."
The Mr. Men books, created by Roger Hargreaves in 1971, have sold more than 120 million copies.
Adam Hargreaves took over the Mr. Men and Little Miss empire after his father's death in 1988.