Douglas Promenade: Quick delivery and minimal disruption 'critical' to revamp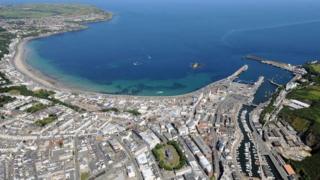 Promises of quick delivery and minimal disruption will be "critical" in choosing a contractor to complete a £20m revamp of Douglas Promenade, the infrastructure minister has said.
The scheme, unanimously backed by Manx politicians in July, will see improved access for buses and taxis and a reduction in car parking spaces.
Ray Harmer said a planning application will be submitted in October.
He added the work, which may take up to three years, could begin in late 2018.
Adrian Brockhouse, a director of Sefton Group which runs two hotels on the promenade, said the work was "a necessary evil".
The project will see the excavation and reconstruction of the crumbling 80-year-old highway.
'Long overdue'
The scheme will see the creation of a new cultural centre, but nearly 130 fewer parking spaces, and is the third to be drawn up after two others failed to materialise.
The first scheme was rejected following a planning inquiry, which raised concerns about loss of public space, and the second over the future operation of the horse tram service.
The government said it will also see new water and gas mains installed and lighting and drainage improved.
More than 4.6 miles (7.5km) of horse tram tracks will also be installed, with twin tracks in the centre of the road from Strathallan to Castle Mona Avenue switching to single tracks on the seaward side of the road terminating at Peveril Square.
Mr Brockhouse said local residents and businesses "know the work needs doing... and it is long overdue".
"The parking is a concern and I do have sympathy for the effect this will have on hotels [but] it is a necessary evil," he added.