Peter Eagles: New bishop of Sodor and Man installed at Peel Cathedral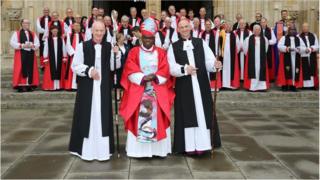 The 87th Bishop of Sodor and Man has been installed at a enthronement ceremony at Peel Cathedral.
The Venerable Peter Eagles, 57, succeeds the Right Reverend Robert Paterson, who retired in November having held the position since 2008.
The married father-of-one said he was "thrilled and deeply honoured".
Bishop Eagles has previously been an Archdeacon for the Army as well as Deputy Chaplain-General of the Royal Army Chaplains Department.
He said: "My hope is that I may support the people of the Isle of Man in their spiritual and historic identity and in looking confidently to the future."
Speaking to his congregation on Saturday he said: "I see a great value of traditional strength and the honouring of tradition amongst island communities and that is a deeply impressive thing.
"I also see something that is very innovative. Certainly in some aspects of industry here on the island which reflects an imaginative, forward-looking, entrepreneurial spirit."
Sodor and Man is the smallest diocese in the Church of England, overseeing 45 churches and 27 parishes.
It is also a unique position because the bishop is a Member of the Legislative Council of Tynwald, the Manx parliament.
He was consecrated in York Minster by Archbishop John Sentamu in June.