Bushy's reveals new beer tent site after losing to rival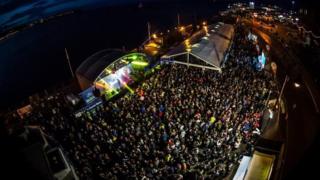 A brewery is opening a new TT beer tent after losing out to a rival in a tender process at a popular drinking location.
Bushy's ran a beer tent on the Bottleneck car park in Douglas for 20 years but in July rival The Hooded Ram was chosen to run the site in 2018.
Bushy's boss Martin Brunnschweiler said the move to Villa Marina Gardens is a "golden opportunity".
The Hooded Ram, which has been offered the car park site until 2022, said its plans will be "epically different".
'Lengthy discussions'
Mr Brunnschweiler said the decision to move their operation to the new venue, used for events including the island's food and drink festival, followed a "frenetic period of site reconnaissance and lengthy discussions".
He said the move "could turn out to be the best thing that's happened us" and is a "golden opportunity for our entertainment plans in our 21st year of entertainment at the TT".
Both tents will be open for the TT fortnight 26 May and 8 June.