Strang Corner Field: £5m leisure centre plans approved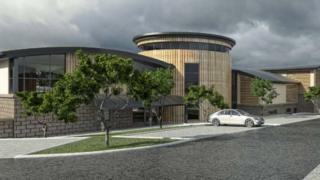 Plans to build a £5m multi-purpose leisure centre on the Isle of Man have been approved by the Manx government.
The proposed centre at Braddan's Strang Corner Field will house a cafe, sports hall, pharmacy, nursery and the local commissioners' offices.
The approval means a design for the facility will now to go to tender.
Clerk of the Commissioners Colin Whiteway said if the authority feel it is affordable after the tender process, they will seek Treasury approval.
The decision to approve the plans will not become final until 21 days after the notice was issued and the window for lodging an appeal has closed.
A spokesman for Braddan Commissioners said it was hoped work will start on the centre in summer 2018 and take about 20 months to complete.