Chicks stolen from Parish of German on the Isle of Man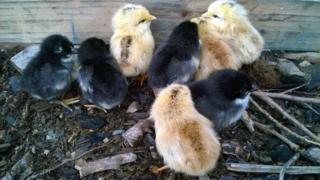 Thirty fluffy chickens have been stolen and a hunt is under way to find them before their 10-year-old owner returns from a school trip.
The chicks, many less than a day old, were taken along with five hens from private land in the Parish of German on Tuesday, police said.
Pauline Kneen said her daughter will be devastated and it will "break her heart" to find out they are missing.
Anyone with information has been asked to contact Peel police station.