Fog grounds flights at Isle of Man airport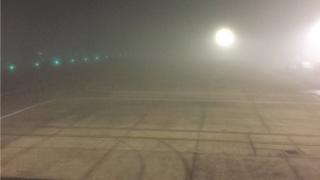 Fog has grounded flights to and from the Isle of Man, causing disruption to passengers.
No aeroplanes landed at the Ronaldsway Airport on Monday evening with flights from London, Manchester and Liverpool among those affected.
Passengers are being warned to expect delays, and an airport spokesman added the fog has meant "aircraft are not where they are supposed to be".
Forecasters predict there will be misty conditions and fog this morning.
Passengers are advised to arrive at least one hour before their flight is due to depart.