Isle of Man's Snaefell vintage railway 'suspended' after safety probe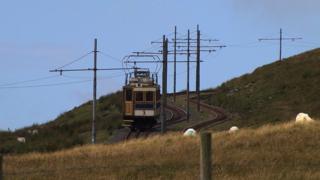 The Isle of Man's vintage Snaefell Mountain Railway service has been suspended after a health and safety investigation, the government said.
An inquiry was launched last month after a tram carrying passengers became "out of control" while descending.
The tram travelled about 180ft (54m) before switching from a modern braking system to an older one.
A government spokesman said the decision "reflects the importance of passenger and staff safety".
It is not known how long the service will remain closed.
The spokesman added: "Investigations have highlighted the challenges of operating heritage railway systems in a modern safety management environment.
"The Department of Infrastructure has continued to work closely with the Health and Safety at Work Inspectorate to identify a number of improvements as part of a comprehensive review."
Passengers on the tram last month described how it "became out of control" with the driver "wrestling to gain control".
At the time, the island's transport services director Ian Longworth said: "It might have seemed exciting for the passengers but for the crew involved it was just business as usual."
No-one was hurt in the incident.