Isle of Man prescription charges could net £3.8m, says health minister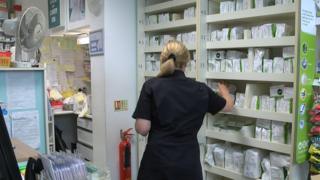 Proposed changes to prescription charges on the Isle of Man could save the government more than £3.8m a year, Health Minister Kate Beecroft said.
More than 3,000 have signed a petition calling for the plans to be scrapped.
Under the proposals, pensioners under 75, people with chronic illness, and pregnant women would all have to pay prescription charges.
Ms Beecroft said the £3.86m net saving for the government would be less if people bought pre-paid certificates.
These would annually cost £60 per person.
She told Tynwald that the Manx government recouped £671,760 in 2015-16 from prescriptions, rising to £692,481 in 2016-17.
"It has been estimated that the proposed changes to the prescription charges and the changes to exemption categories included in the National Health and Care Service General Scheme could potentially increase the amount recouped to approximately £3.86m," she said.
"However, the Department stress that it is also anticipated that many more people will take up the option of purchasing pre-payment certificates which could significantly reduce this figure."
Former chief minister Tony Brown said the proposed changes would make it the "worst prescription regime in the British Isles".
"It would mean most people in the Isle of Man will never be exempt from prescription charges," he added.
Emma Tapping, who set up the petition, said the proposed changes would see many pensioners and people with chronic illness suffer.
"It could result in them stopping important medications clearly because they can't afford it."
She told the BBC: "My dad got cancer aged 72 and he simply couldn't afford all the medication on his pension - it would cost hundreds of pounds."
The first increase in Manx prescription charges since September 2010 will mean each item costs £5 - less than the £8.60 currently paid in England.
Mrs Beecroft said: "The appropriate amount each of us should contribute towards the costs of some parts of our healthcare is a complex area of policy and one that, understandably, divides opinion".
If the changes go ahead the following groups will still be exempt
Under 16s
Under 19s in full-time education
Aged 75 and over
Those on benefits
Prisoners