RNLI rescue injured sailor after yacht fall off Douglas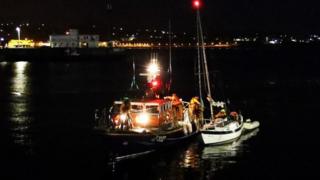 A sailor has been rescued after injuring his shoulder when he slipped on board his yacht, leaving him unable to work the sails.
The yachtsman was 10 miles (16 km) east of Douglas harbour when he slipped at about 23:50 BST on Tuesday.
His injuries left him unable to work the yacht's sails and he called the coastguard after his engine failed to start, the RNLI said.
The yacht was towed back and the sailor was helped by the coastguard.
The RNLI was also called out to a report of a person entering the sea from Douglas promenade before rescuing the sailor.
The search was stood down at about 23:50 as there was no evidence of a person in the water but it had been "reported with good intent", the coastguard said.
Insp Gavin Callow said they had not received any reports of a missing person and believed it had been a "false alarm".