Bereaved mum helps launch Isle of Man family support service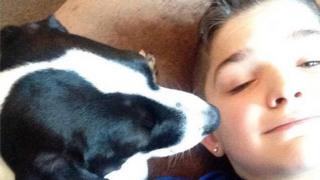 A woman whose teenage son died after an asthma attack has helped launch a new support service for bereaved families on the Isle of Man.
Earlier this year, Leanna Watson from Douglas told Manx health officials "she didn't have a clue what to do" in the immediate aftermath of losing her son Jake.
The 14-year-old was taken off a life-support machine on 19 September 2016.
Mrs Watson said: "We were left to our own devices and we felt very alone."
After hearing her experiences, Manx health officials have decided to set up a Relative Support Service for grieving families.
A health spokesman said it will be run by mortuary staff who will return possessions, help with paperwork and offer advice on counselling services.
"When your you lose a child, the idea of getting out of bed in the morning is challenging enough," said Mrs Watson.
"The staff at the hospital were brilliant and they made a horrific time that little bit easier but we could have done with some direction about what to do next.
"Trying to arrange a funeral for example is incredibly difficult - I ended up turning to the Yellow Pages because I didn't know help was available.
"This new service will bring together all the organisations who can help a bereaved family move forward with their lives."