Isle of Man woman calls for ban on 'cruel nasty tourist attraction'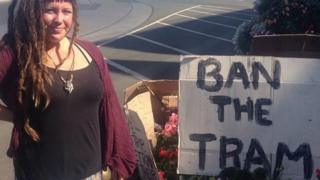 A woman has staged a protest after claiming she witnessed a horse struggling while pulling a tram in the Isle of Man.
Felix Joughin said she wants the "cruel nasty tourist attraction" to be banned after watching the 15-year-old horse apparently stumble three times.
But vet Raymond Cox said the animals have been bred over centuries to have the strength to pull heavy loads.
Founded in 1876, the service is one of the oldest of its kind in the world.
Ms Joughin, who staged her protest in Douglas on Saturday, said: "I think that it should be stopped. It is far too dangerous."
She said she accepts the horses are well cared for, but is concerned about the dangers they could face from traffic and exhaust fumes.
She now hopes transport officials will listen to her concerns and discuss the tram service.
The horse called Amby is one of 18 working horses listed on the Isle of Man government's website.
Mr Cox, who cares for the horses, told Manx Radio the capacity for the animals to pull many times their body weight is "well within their physiological capabilities".
"The horses have come from strains of Clydesdale and Shires and have been bred to pull things such as ploughs and carts," he said.
He added their standard working practice for the animals is two runs up and down the length of the promenade each day.
Last year thousands of people signed an online petition to protest against plans to axe the service.
Horse trams operate between April and November.