Isle of Man campaign to boost low organ donor rates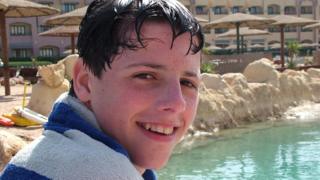 A campaign is aiming to boost the number of organ donors on the Isle of Man after figures revealed a low registration rate.
About 15% of islanders are registered donors compared with a third of people in the UK, according to the NHS.
Six Isle of Man people have died waiting for a transplant since 2003; nine more remain on the waiting list.
The campaign is backed by the mother of teenager Daniel Boyde who donated his organs after he died in 2007.
Senior Nurse at Noble's Hospital, Pam Makin said many people wrongly assume they have already registered when they give consent on a Manx driving licence.
"This information is not linked to the UK database - you need to register separately to make your intentions clear."
Ten years ago, 15-year-old Daniel Boyde died from head injuries after a car crash near Ramsey in the north of the island.
He was taken to a UK hospital for brain surgery but died two days later.
Daniel's mother, Diane, said when the issue of donation was raised by medical staff, she did not have to think twice saying "it was what Daniel would have wanted".
"The way I look at it is this; if you would be happy to receive an organ in order to save your own life, then why wouldn't you be happy to donate one to save another?" she continued.
"This is about the gift of life, it's about saving lives - it's serious stuff and something I would recommend everyone talk about with their nearest and dearest".
Registration centres will be set up at Noble's Hospital and Ramsey Cottage Hospital during Organ Donation Week which begins on 4 September.
Alternatively people can go to the NHS organ donation website.