Fog causes Isle of Man flight cancellations and delays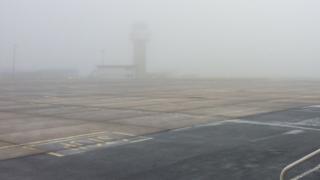 Thick fog has caused cancellations and delays to flights in and out of the Isle of Man.
The Met Office said the fog resulted in visibility being reduced to 200m (0.2km) in some places on Monday and Tuesday.
Flights to Manchester, Liverpool and London from Ronaldsway Airport were cancelled and others were diverted, causing disruption to passengers.
Forecasters predict the fog will clear towards the end of the day.
'Sat sobbing'
A passenger on an inbound flight from Gatwick Airport on Monday told Manx Radio they were facing a three-day wait to go home.
Karolina Davison, from Peel, said: "There isn't an earlier flight available - the lady at the desk said there is nothing that can be done."
Another passenger travelling from London to the island at 19:00 BST on Monday said her plane took off but was diverted back to London.
Suzanne Bailey said: "I've now had my flight swapped to Thursday but have lost three days pay - I was so annoyed I was sat sobbing and they just said there's nothing they could do."