Passengers facing disruption after Isle of Man ferry strikes quayside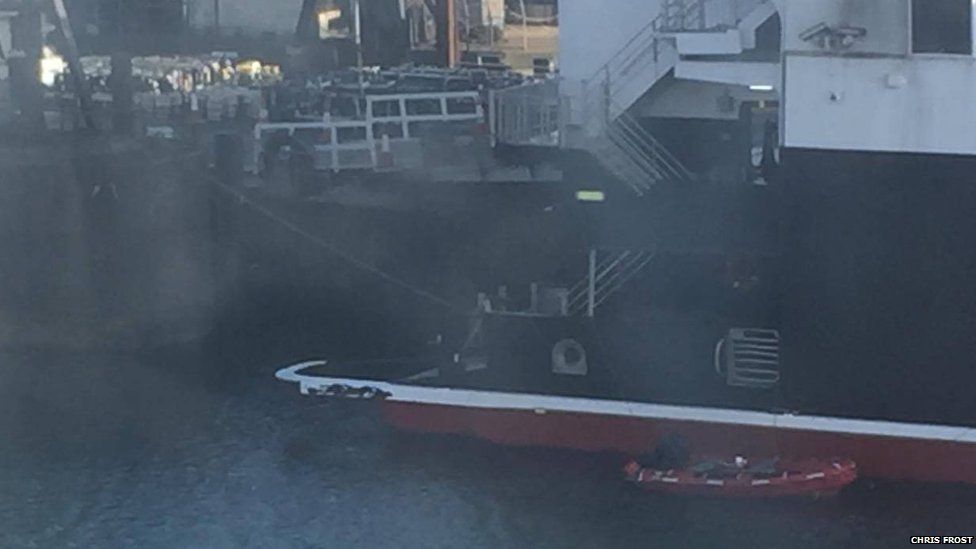 Hundreds of passengers faced travel disruption after a ferry struck a harbour quayside in the Isle of Man after crossing from Liverpool.
Long queues formed at the Sea Terminal in Douglas after two crossings were cancelled after Thursday's incident.
The Isle of Man Steam Packet Company said the Manannan fast ferry was being repaired. No-one was injured.
The ferry is due to sail from Douglas at 20:00 BST with a return journey scheduled at 00:30 BST on Saturday.
The operator said the Manannan "made contact" with the quay while attempting to berth at about 22:00 BST.
All passengers and vehicles safely disembarked later.
The ferry had suffered "some structural damage" and staff had been working "flat out through the night" to repair the damage.
A statement on the company's Facebook page said: "Ben-my-Chree sailings are operating as scheduled and it is anticipated that Manannan schedules will return to normal tomorrow [Saturday].
"In addition, freighter Clipper Ranger will be brought in to operate an extra sailing tonight.
"We apologise for any inconvenience caused by this rescheduling."
Earlier Katie Challenor, who was due to travel to a wedding, said: "I've seriously had enough now. Currently in a queue of at least 300 people trying to get transferred.
"It's already cost us £600 for this journey so I'm really not happy."
Ged Power posted on Twitter: "Golf group due to visit Isle of Man today using Manannan! IOM travel vulnerability has a massive knock on for many 1000s. Frustrating for all."
Alexis Kenny said he waited an hour on the phone to reorganise his tickets.
Related Internet Links
The BBC is not responsible for the content of external sites.