Laxey crash: Tynwald tribute for 'proud' Messengers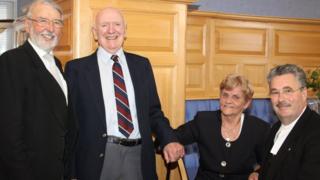 The Manx parliament has paid tribute to two former Messengers of the Tynwald Court who died in a recent car crash.
Derek Brown and his 81-year-old wife Joyce were killed when his car crashed into a bus stop in Laxey on 24 July.
Two of Mr Brown's other passengers - Marie Gordon, 81, and 84-year-old Kathleen Garret - also died.
President of Tynwald Steve Rodan said the tragic deaths of the four pensioners, who all lived in Laxey, had "shocked and saddened many people".
The Isle of Man government said Mr Brown had been appointed a Messenger of Tynwald Court and the House of Keys in 1996.
By the time he retired in 2010, he had risen to the position of Head Messenger.
The job includes preparing the Tynwald chamber for sittings, carrying confidential messages to political members and performing ceremonial duties on Tynwald Day.
Joy Brown also served as a Messenger on an occasional basis between 2004 and 2010.
Mr Rodan said: "The good and faithful service of Derek and Joy was greatly appreciated, and will long be remembered."
As part of his duties, Mr Brown "proudly carried the red box containing Petitions for Redress along the Processional Way during the Tynwald Ceremony," Mr Rodan continued.
"Our prayers and condolences are with the families of all who were involved in this tragic accident."
Isle of Man Coroner John Needham said that because of ongoing police investigations, the inquests of all four people involved in the crash have been adjourned to a date to be fixed.