Viking Longboat World Championships: Netball team lift race title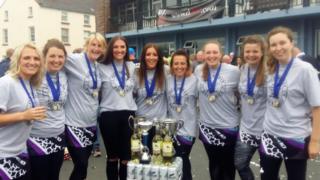 A netball team have been crowned this year's Viking Longboat World Champions.
Race organiser Jimmy Lee said 700 people took part in the 54th Viking race, which was held on the Isle of Man.
The annual event, first held in 1963, saw crews of 10 people row authentic longboats in a 1,312ft (400m) sprint in Peel Bay.
It was the first time the RL360 Young Farmers Netball Girls, who are based on the island, have won the title.
Whitehouse Young Vikings Again had the quickest time with one minute 59 seconds but Young Farmers Netball Girls won after handicaps were calculated.
Mr Lee said hundreds of spectators turned out to watch the "incredible spectacle" which was "as competitive as ever for bragging rights".
Each team had to complete at least two practice runs in order to compete in the World Championship race, with each member using an 11ft (3.3m) oar.