Douglas regeneration: 'Tired' Castle Street to get paving and lighting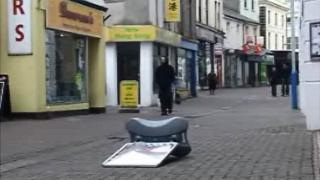 The regeneration of a "tired and dated" shopping area in Douglas will begin next year if Tynwald approves funding, the Manx government has revealed.
A spokesman for the Department of Infrastructure spokesman said if approved, the scheme would see Castle Street receive new paving and lighting.
The area has previously been criticised by traders for being "neglected, tacky" and uninviting for shoppers.
The work would form part of a £3m regeneration plan for Douglas.
The spokesman said if funding was approved, it was hoped the work would be completed by the end of 2018.
Infrastructure Minister Ray Harmer said the scheme would "create a brighter and more vibrant feel to the northern end of the high street in Douglas".
"The end result will give this area a lift and support government's efforts to reinvigorate the local economy," he added.