Edinburgh to Isle of Man flights to resume, says Loganair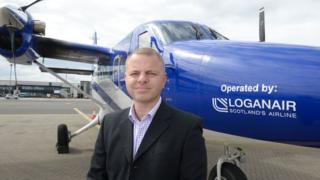 Direct flights between the Isle of Man and Edinburgh will resume in May, a new operator has announced.
Flights from the island to five UK destinations were cancelled earlier in March, after the "virtual airline" Citywing went into liquidation.
Loganair will operate the new service, which is scheduled to begin on 26 May.
"We're thrilled to be returning to the Isle of Man after an absence of nearly four years," said managing director Jonathan Hinkles.
"Our new Edinburgh service will provide much-needed weekend flights between Scotland and the island."
The new service will operate up to four flights each week during the summer and two throughout the winter season.