Isle of Man Mountain Road closes for race repairs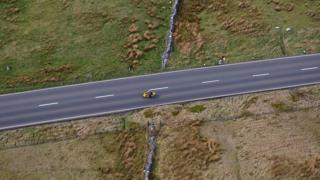 The Isle of Man's Mountain Road has been closed for "essential maintenance," the government has said.
Work will include resurfacing and re-profiling the road at the Bungalow which is "badly rutted".
The road, used in the TT races, will be closed between Ramsey Hairpin to the Creg-ny-Baa until 23 April.
David Anderson, Member of the Legislative Council, said it will improve the road for motorists and "the safe and successful" running of the TT.
The government spokesman said it is particularly susceptible to weather damage due to its "exposed location and altitude."
The scheme will also see improvements made to a 500 metre section of carriageway, sign maintenance and road lining.