Isle of Man springer spaniel saved from metal spike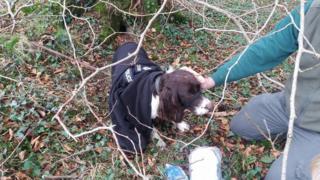 A springer spaniel named Spike has been rescued after becoming impaled on a metal spike.
The dog became stuck on a piece of old metal fencing while exploring a glen on the west of the Isle of Man, police said on a Facebook post earlier.
Spike's owner said after 16 stitches and some tender loving care, he is back to his "normal Springer self" following being rescued by police and vets.
Officers have removed the fencing to prevent other animals getting injured.
A police spokesman said: "Luckily he was not seriously injured and will make a full recovery".