RNLI rescue fishermen twice in same day after two boat faults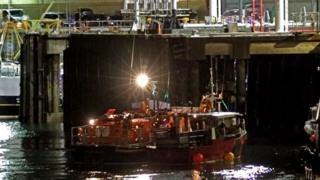 Two fishermen were rescued from the same stretch of sea twice in the same day after their boat broke down with different problems, it has emerged.
The Douglas all-weather lifeboat was first launched at 07:23 GMT on Sunday after the 30ft (9m) vessel suffered engine failure 12 miles off Douglas.
After being towed back to the Isle of Man for repairs, the boat relaunched.
But at 17:50, when they reached virtually the same location as before, their boat suffered electrical failure.
An RNLI spokesman said: "The crew of the fishing vessel had made good the mechanical issues suffered earlier in the day and had left Douglas making for Holyhead.
"Then, in virtually the same place as this morning's incident, the boat's alternator failed leaving the vessel without power."
The RNLI crew again towed the fishing boat back to Battery Pier in Douglas for repairs to be made for a second time.