Isle of Man ferry passengers could face identification checks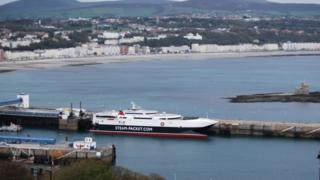 Ferry passengers on the Isle of Man could face identification checks before boarding in the future, the Home Affairs minister has said.
Travellers going between the UK and Douglas by sea currently do not have to show any identification, unlike air passengers, who require ID to travel.
A 2015 consultation saw 58% of respondents support ID checks.
Bill Malarkey MHK said checks would help "combat crime" and deal with the impact of Brexit on border security.
"I think we should definitely have an indication of who is coming onto and leaving the Isle of Man," he said.
"We don't know where the UK stands with Europe or what port and passport security there will be between the UK and European Union."
In 2015, a report by the island's chief constable said the "vulnerability of borders" was the "biggest threat to national security".
It also said action was needed to prevent the island being seen as a "soft target by criminals", who travel under "a false name to commit offences such as drug smuggling and money laundering".
Isle of Man ferries link the island with Liverpool, Heysham, Birkenhead, Dublin and Belfast.