Manx round pound coins to remain 'legal tender'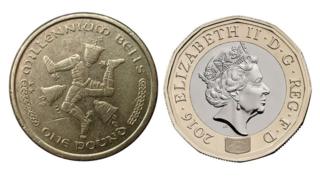 The Isle of Man's round pound coins have been saved from extinction, the Manx Treasury has announced.
The United Kingdom's new 12-sided £1 coins - designed to tackle forgers - will enter circulation on 28 March. The old, round coins will cease to be legal tender in the UK from 15 October.
But the Manx government said both the UK's old coins and Manx round ones will still be accepted from this date.
A spokesman said the UK's round pounds would be "gradually repatriated".
He said the new 12-sided UK coin will circulate alongside the round Manx pound after 15 October.
He added that they will continue to "monitor the situation" and "consider the introduction of a 12-sided Manx pound coin in the future".
The 12-sided coin was announced in the UK's 2014 budget and has been billed by the Royal Mint as "the most secure coin in the world".
---
Why the 12-sided coin is harder to counterfeit
Its distinctive shape means it stands out by sight and by touch
Bimetallic - The outer ring is gold coloured (nickel-brass) and the inner ring is silver coloured (nickel-plated alloy)
Latent image - it has an image like a hologram that changes from a '£' symbol to the number '1' when the coin is seen from different angles
Micro-lettering - around the rim on the heads side of the coin tiny lettering reads: ONE POUND. On the tails side you can find the year the coin was produced
Milled edges - it has grooves on alternate sides
Hidden high security feature - an additional security feature is built into the coin to protect it from counterfeiting but details have not been revealed
---