'Major upgrade' for Douglas and Maughold lighthouses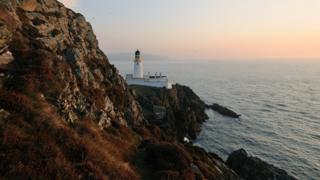 A "major upgrade" of the lights on two Isle of Man lighthouses will begin this week, the Northern Lighthouse Board (NLB) has said.
The extensive renovations will begin at both Douglas Head and Maughold Head lighthouses on Wednesday and see their lights replaced with power-saving LEDs.
The NLB said the new lights would "make a significant saving" to running costs and "require less maintenance."
Temporary lights will be used while the work is carried out.
It will be the first time the Douglas Head light has been updated since it was fully automated 20 years ago. Maughold was automated in 1993.
A spokeswoman for the NLB, which looks after six lighthouse on the Isle of Man and Calf of Man, said the Douglas Head work will be completed mid-March and Maughold two weeks later.