Isle of Man Attorney General perjury investigation cost taxpayers £2.5m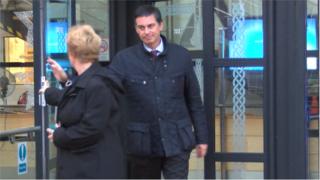 An investigation into allegations of perjury by the Isle of Man's former Attorney General cost taxpayers more than £2.5m, the Treasury minister said.
Stephen Harding was suspended after allegations of perjury and committing acts against public justice were made against him.
He was acquitted on all charges in 2014 and went on to retire last year.
Minister Alf Cannan revealed the total cost of the three-year investigation, called 'Operation Leopard', in Tynwald.
After being cleared of the criminal charges, Mr Harding failed in a bid to stop disciplinary action taken being against him.
In September, he retired on grounds of ill health.
Mr Cannan told MHKs the total cost of the investigation, which took place between 5 May 2011 and 24 May 2014, was £2,563,051.
Last week Manx advocate John Quinn, who has served as acting attorney general since 2013, was appointed to the position permanently.