Josh Brookes returns to Isle of Man TT with Norton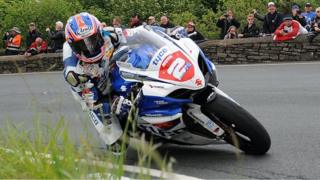 Australian racer Josh Brookes is to return to race at the Isle of Man TT with Norton, after a two-year absence .
Brookes will be joined by fellow Australian David Johnson, with both riders using the all-new SG6 in both the Superbike and Senior TT.
The bike is undergoing development in the hands of two-time TT winner Steve Plater.
Brookes said: "I couldn't ride at the TT over the last two years and I've been desperate to get back and race."
He added: "It's always hard to predict results, especially around the island so I think it's important that I let it come to me.
"I like the history of the Norton and it will be so great to be a little part of the Norton story."
Brookes was the fastest newcomer at the 2013 TT and finished seventh in the Senior the following year.
The 2015 British Superbike champion and his Norton team are also in discussions with North West 200 organisers with a view to possibly competing at that event in May.
Brookes, who will compete for the TAG Yamaha team in British Superbikes this year, is a former lap record holder at the North West.
He endured a frustrating season with the SMR Milwaukee BMW team in the World Superbike Championship series in 2016.