Two Isle of Man ferry crossings cancelled due to strong winds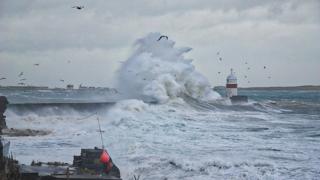 Strong winds have led to the cancellation of two ferry crossings between the Isle of Man and Lancashire.
The Isle of Man Met Office predicts wind speeds could reach up to 55mph (88km/h) later and on Thursday.
The 08:45 GMT sailing between Douglas and Heysham and the 14:15 are affected, the Isle of Man Steam Packet Company said.
A spokesman said the 19:45 and overnight service could also face disruption or cancellation.
Affected passengers have been asked to contact the company.
The Met Office has issued a yellow warning for cold and windy weather on Wednesday, Thursday and Friday, with a "likelihood of hail, snow and temperatures close to zero".
It has also issued a flood warning for Peel promenade at high tide at 10:15.