Steven Corkill custody death: Coroner calls for better guarding of suspects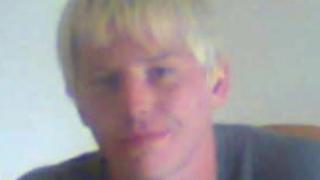 Police in the Isle of Man have been told to keep a closer eye on suspected drug smugglers in custody after "gross failures" contributed to a man's death.
Coroner John Needham made the recommendation after Steven Corkill's inquest heard officers guarding him at Noble's Hospital were sometimes using electronic devices.
At the time, Isle of Man Constabulary said the 27-year-old of Pulrose was supervised 24/7 by two officers.
Procedures have been improved, it said.
"Changes to the management of detainees.... have already been implemented," a spokesman said.
Mr Needham said that while the practice of using electronic devices was acceptable, their use while on guard duty should be limited.
"It is imperative that the detainee is closely observed by at least one officer the whole time they are in detention," he said.
'Condom full of cocaine'
On 5 December, an inquest jury found that there were "gross failures" by police surrounding Mr Corkill's death.
Mr Corkill was arrested on 12 June 2015 on suspicion of importing Class A drugs at the Sea Terminal in Douglas.
He was taken to Noble's Hospital and placed under police guard in a private hospital room.
While there, Mr Corkill reached under the covers and removed a condom full of cocaine from his body.
He then ingested the drugs before suffering a cardiac arrest.
He was pronounced dead on 16 June.
Mr Needham said he has written to the police, the attorney general's office as well the Isle of Man's Health department to "prevent the recurrence of a similar fatality".
Other recommendations include allowing hospital detainees the same access to a legal representative as they are allowed when held at a police station.