Mother's Christmas present mountain gets even bigger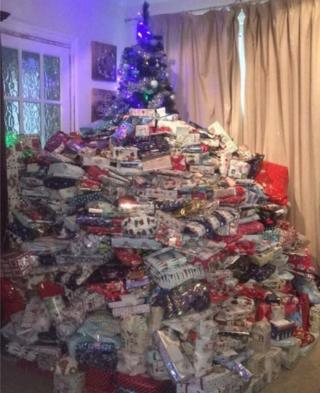 A mother who saw her picture of a mountain of presents for her children go viral last Christmas has shared an image of an even bigger pile.
About 300 gifts, which Emma Tapping has been wrapping for months, can be seen swamping her tree in the picture.
In 2015, the 36-year-old's photograph was shared more than 30,000 times on Instagram with many people criticising her and labelling her "materialistic."
However, the Isle of Man mother said her family "deserve a great Christmas".
Writing on Facebook, she said it had taken a year of "hard graft, saving and planning" to create the present pile.
She added that "the haters will hate but nothing and no-one will change how I do Christmas".
In 2015, the mother-of-three, who runs a holiday cottage on the island, bought two children about 85 gifts each and a further 30 for her 16-month-old baby.
Twelve months on, she said that number had increased to about 100 presents each.