Confidential data about vulnerable children stolen in Isle of Man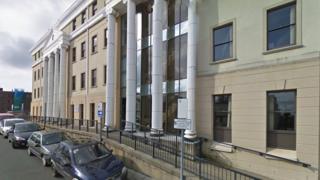 Confidential conversations about vulnerable children have gone missing following a theft from a government office on the Isle of Man.
A recording device believed to contain interviews between parents and social workers was taken from Murray House in Douglas, the government confirmed.
One of the families affected told the BBC the recorded information "is of the most sensitive nature possible".
Isle of Man police and the Information Commissioner are investigating.
One of the families who cannot be identified said: "We now have grave concerns it will get into the wrong hands.
"The meetings which concern us were from three child protection conferences held on two days, several months apart - it's very worrying that the audio was being held on a handheld Dictaphone," continued the family.
'Matter of urgency'
The second family to be affected by the data breach said: "I hope we and the others affected will be reassured as to the whereabouts of our data and how it has been exposed in the near future, together with how the Department proposes to prevent a reoccurrence.
"I have myself asked the department in writing as a matter of urgency to hear the tape, but as yet - two days later - have had no response".
A spokesman for the Isle of Man Department of Health and Social Care said it takes its duty to protect data "extremely seriously".
Civil liberties campaigner Tristram Llewellyn Jones said data breaches, while not are not uncommon, can be even more serious on an island.
"The Isle of Man is a small and close-knit community - this makes the problem more acute because information here circulates very quickly."