Steven Corkill inquest: 'Gross failures' by Manx police over custody death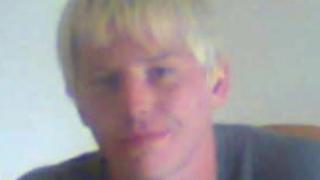 "Gross failures" by police contributed to a suspected drug smuggler's death while in custody on the Isle of Man, an inquest jury has found.
Steven Corkill, 27, died at Nobles hospital on 16 June 2015 and was found to have a "lethal amount of cocaine" in his blood, Douglas courthouse heard.
His death was "an accident, contributed to by neglect", the jury said.
Isle of Man police said "changes to the management of detainees... had been implemented".
Mr Corkill, of Pulrose, was arrested on suspicion of importing Class A drugs at the Sea Terminal in Douglas.
On the day of his arrest he was taken to hospital where he became violent and had to be restrained, Douglas courthouse heard.
Mr Corkill was later placed in a private hospital room where police said he was supervised around the clock by two officers.
He had showed no signs of drug poisoning, the two week inquest was told.
The jury of four men and two women said Mr Corkill reached under the covers and removed a condom full of cocaine from his body during the hospital watch on 15 June.
He then ingested the drugs and at about 02:15 BST on 16 June medical staff reported a "rapid deterioration" in his condition.
He suffered a cardiac arrest and was pronounced dead just over an hour later.
Mr Corkill's medical cause of death was cocaine toxicity.
The inquest jury found police officers supervising Mr Corkill should have seen him taking the drugs.
The fact that they did not, added the jury, constituted a "gross failure" of duty.
The jury also found officers failed to conduct an adequate and timely strip-search.
Coroner John Needham made a series of recommendations including any detainees suspected of concealing drugs internally be strip searched within an hour of arrest.
He also recommended the use of electronic devices be limited for police officers conducting hospital watches.
The Isle of Man Constabulary said it would "act upon the recommendations at the earliest opportunity".
A spokesman added: "Changes to the management of detainees who are suspected of concealing drugs internally have already been implemented by the Constabulary.
"Processes and procedures are continually reviewed in line with professional standards and best practice."