Promoter to take legal action over collapsed TT deal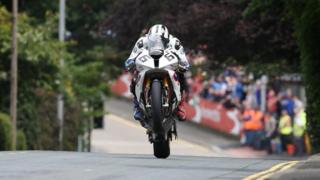 A London-based promoter has started legal action against the Manx government following the collapse of a deal to promote the 2017 TT races.
On Monday the government announced it has discontinued its current independent promoter tender process for the TT and Classic TT races.
Vision Nine CEO Julian Topham said his firm suffered "significant reputational damage" because of the decision.
The government confirmed it was aware of legal claim.
Mr Topham said his company had entered into a bidding process to promote the event in "good faith".
He said: "What's become abundantly apparent is either there was no intention of completing the tender or the [government department] did not have the authority to run this tender.
"Either of which has meant we've suffered significant reputational damage through this process and this needs to be a warning to other businesses [to] proceed with extreme caution if they are intending to try and work with the Isle of man government."
A government spokesman said the Department of Economic Development will continue to work with the other government departments and independent contractors to deliver motorsport events in 2017.
A Manx politician called for the chief minister to explain the government's position as a "matter of utmost urgency" in the House of Keys.
East Douglas MHK Chris Robertshaw said the negative publicity following the collapse of the deal is "damaging the government's image" and said it was a "very embarrassing situation".
The Manx government has promoted the TT since it began in 1907.