Laxey Bridge: 'Finishing touches' being made after after post-floods rebuild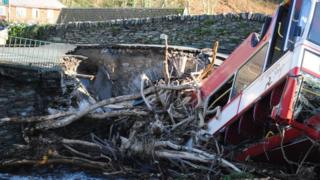 The rebuilding of a Victorian bridge which collapsed during last year's flash floods is to be completed next month, the Manx government said.
A spokesman said "finishing touches" to Laxey Bridge in the east of the island will be made by 9 December.
The 200-year-old bridge collapsed under the weight of a double-decker bus during torrential rain last December.
Plans for a replacement - which can handle nearly three times the volume of water - were approved in February.