Boat race over 'unusually good' Isle of Man king scallop crop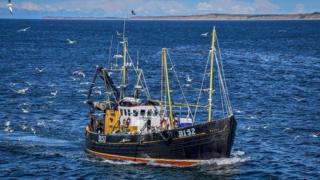 An "unusually good" crop of king scallops off the Isle of Man coast has led to a fishing race with larger boats from all over the British Isles.
The area off the west coast was closed for several months last season, which has led to a bigger harvest.
The Manx Fish Producers Association has "never seen catches this big" but said the island's fisherman "can't compete".
The Isle of Man government said scallop fishing was "unsustainable", adding it would consider further restrictions.
'No chance'
Manx Fish Producers Association spokesman David Beard said: "It has created a race to fish which is unfair to the Manx fishermen who can't compete with the larger vessels.
"The concern is that most of the stock is leaving the Isle of Man without benefitting the local economy.
"If there was a daily bag limit imposed we could spread the fishing out for a longer period, as it is the smaller boats haven't got a chance."
Manx fisherman Steven Hatton said: "What is happening here is wrong - years of conservation work is all being undone in a matter of weeks.
"Our catches so far have only been moderate because we only have a small boat- more controls would definitely help to create a level playing field."
The Isle of Man government said king scallop fishing around the Manx coast has become "unsustainable" despite a number of recently imposed restrictions.
They include an overnight fishing curfew, a 50% cut in licences and the introduction of boat size restrictions.
A spokesman said: "We will consider introducing further measures imminently if necessary."
During the past few years the Manx government has also imposed complete closures in some areas to help replenish stocks.
The Isle of Man's king scallop season runs between November and May.
In Manx waters 35% of scallop fishing licences are held by the island's fishermen and the rest are given to vessels from England (13%), Northern Ireland (27%), Scotland (23%) and Wales (2%).
The Manx government said the industry is worth millions of pounds to the island every year.